| | |
| --- | --- |
| First: | There was BUNGY |
| Then: | There was TANDEM SKYDIVING |
| NOW: | There is |

"THE RACK"

(World First Adventure Concept)




(Fully Patented & Trademarked - All Equipment Fully Tested & Certified)
---
100 km per hour - 1,000 feet high.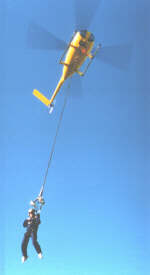 Info: The Rack is a 40 ft chain beneath a helicopter with a human sling load suspended beneath. The approved Rack Rider harness incorporates a parachute life support system, and an Air Force helmet connected to the intercom system for voice link between the Rack Rider, pilot and crew.
The Flight: Hanging upright for the 10 minutes under the helicopter the Rack will provide you with an adrenaline pumping experience, never to be forgotten! The flight route includes boiling mud pools, furious steam fields, green golf resorts, and the panorama of the mighty Huka Falls with a Lake Taupo and majestic Mountains backdrop. Hanging by your shoulders your entire body is free to ride the air waves, listening to your choice of music through the specially designed aviation helmet's headphones with full facility for intercom contact with the pilot.
It's here: For the first time in history people can experience the incredible Rack, an emotional blowout! Taupo is the only place in the world to get racked ! Should you choose to take up the challenge, we look forward to your arrival, to experience the flight of a lifetime.
Cost: only NZ $ 185.- as an introductory offer from the Rack Adventure Company.
History:

Racking has been in development since 1994, but officialy began on Saturday, 9th January 1999 with the cricket ball delivery at the international game in Taupo.Our first client, Ian Simpson, the quadriplegic from Australia was elevated vertically from his wheel chair secure in the Rack harness and lowered back there on the return.
Safety:

The Rack Adventure Company have gone to great lengths to make your flight as safe as possible. The Rack Master and his crew will take you through the steps to ensure a safe exhilarating flight for you. Pay careful attention to them, they ensure your safety. In the unlikely event of emergency, the pilot releases you from the end of the chain, the chain staying behind, to be dropped later. You will drift to the ground on a parachute automatically opened by the static line attached.

Legal: Though the Rack is legal under existing aviation law, the Civil Aviation Authority do not approve of the activity due to political issues, and may attempt to close it down. We will endeavour to keep it open for as long as possible for your enjoyment. A waiver form must be signed if you want to fly on the Rack.
---
For comments, Info or Bookings: [email protected]
---
| HOME | Site Map | Contacts | NEWS |
| Intro | Flights | The Rack | About Us | Caf� | Photos | Links |