Helicopter Flights to Golf Courses
Golf at Cape Kidnappers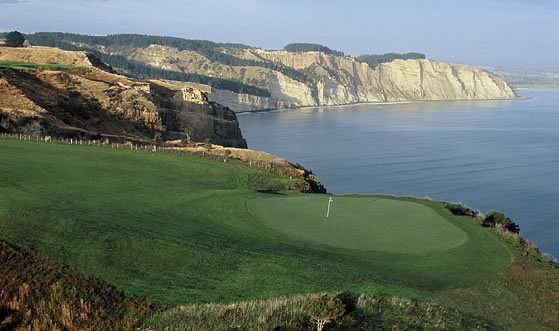 Designed by legendary golf architect Tom Doak, the par 71 golf course measures 7,119 yards (6,510 meters) and will challenge golfers of all skill levels. Completed in 2004, Cape Kidnappers has been hailed as one of the great modern marvels in golf and is currently ranked the 41st best golf course in the world by Golf Magazine.
In the words of course designer Tom Doak… "Our goal in designing golf courses is to create interesting holes you wouldn't find anywhere else. That wasn't hard to do at Cape Kidnappers, because the site is not like anywhere else in golf. If it were any bigger or any more dramatic, it would probably be cordoned off as a national park. It's an overwhelming experience to stand up on the cliffs, 140 meters above sea level, and look out across the waves far below in Hawke's Bay."
Winery options:
Craggy Range
Selini Estate
Te Awa Farms
A fantastic day out for all other additional options:
Wine tour
Art Deco Tour
Shopping
Mountain Biking
Te Mata Peak

Cape Kidnappers from Taupo
The historic trip to Hawke's Bay was once a three day journey; we will now have you ready for the tee off in 45 minutes from departure! Flying over the Native forests and Back Country Rivers is a real highlight on this trip. The Hawke's Bays morning Sun and glistening Pacific with the thought of a local wine for lunch will have you ready for the tee off!
Prices
Cape Kidnappers Golf: One-Way
$1112.50 per person.
Cape Kidnappers Golf: One Day Return
$1387.50 per person.
All prices are per person and based on a minimum of two passengers Prices are for Helicopter travel only check out www.capekidnappers.com for up to date rates or ask one of our friendly team to provide a complete package for you.